Dr. Tom Smith
Hip & Knee Surgeon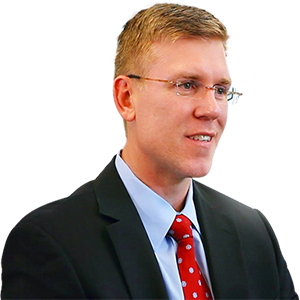 Philosophy
Dr. Smith believes that communication among the patient, staff and physician is one of the most important aspects of his work. "It's important to listen to the patient and to explain what will happen before, during and after surgery so the patient and their family has faith in the implant and the surgeon," he says. "Joint replacement surgery can drastically improve a patient's overall well being and keep them active. But a successful outcome is more than just replacing a hip or knee. It's about teamwork among the patient, physician, staff and hospital."
Dr. Smith's practice focuses on the care of the hip and knee: customized partial and total joint replacements, complex total joint revisions, and peri-prosthetic fractures and conservative treatment options for pain management. Dr Smith uses the most advanced techniques in hip and knee surgery including the minimally invasive direct anterior approach hip replacement technique, computer assisted anatomic knee replacement and outpatient total joint replacements.
Biography
Dr. Smith is a fellowship-trained, Board Certified orthopaedic surgeon with extensive training in joint replacement. He received his bachelor's degree in Biology from Ohio University, where he graduated cum laude and participated in varsity athletics. He then attended medical school at Ohio University and completed his Orthopedic Surgery Residency at Michigan State University/Ingham Regional Medical Center. Dr. Smith pursued two Fellowships in Reconstruction of the Hip and Knee: one with Dr. Thomas H. Mallory, M.D. and Dr. Adolph Lombardi, M.D. at Joint Implant Surgeons in Columbus, Ohio and the other at the prestigious Mayo Clinic in Rochester, Minnesota.
He has authored and co-authored numerous research articles published in peer-reviewed medical journals, in addition to presenting his work at various medical conferences. His many professional memberships include American Academy of Orthopaedic Surgeons, The American Osteopathic Academy of Orthopaedic Surgeons, American Osteopathic Association, Illinois Osteopathic Medical Society,Mayo Clinic Alumni Association, and Mayo Clinic Orthopedic Alumni Association. Dr Smith has had the opportunity to work with and teach physicians world wide on his anatomic knee replacement technique, specifically as a speaker at the Global User Group meeting in Munich, Germany in 2016 and 2018.
Innovative Techniques in Orthopedic Surgery with Dr. Tom Smith
Global User Group Marketing Video
Fellowships in Reconstruction of the Hip and Knee
Mayo Clinic Department of Orthopedic Surgery
Rochester, Minnesota

Joint Implant Surgeons
Reconstruction of the Hip and Knee
Columbus, Ohio
Orthopaedic Surgery Resident
Michigan State University/IRMC
Department of Orthopedic Surgery
Lansing, Michigan
Internship
Doctors Hospital
Columbus, Ohio
Doctor of Osteopathic Medicine
Ohio University College of Osteopathic Medicine
Athens, Ohio
Bachelor of Science, cum laude
Ohio University
Biology
Athens, Ohio
Dr. Tom Smith
Elmhurst

133 E. Brush Hill Rd
Ste 100
Elmhurst, IL 60126

Westmont

815 Pasquinelli Drive
Westmont, IL 60559